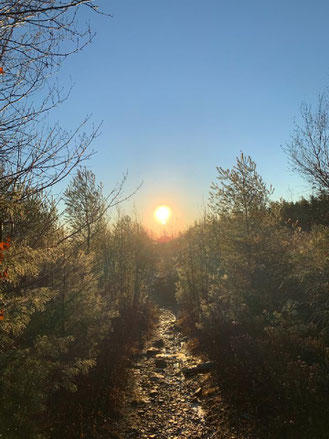 When there is a long period of rainy days, everything is wet; mornings are cloudy, damp and cold. As days roll into weeks -- or longer, there seems to be no end to the feelings of confinement. In winter months up here in New England we call these feelings cabin fever. There is a need to get out and get back to business, work and interacting with family, neighbors and our communities.
We have been in the long rain of the Covid experience for well over a year now and are just now considering coming back to some form of normal. Spring has come to the land as fiddlehead ferns and daffodils appear to show us sunshine and hope can begin again. The bold Maple tree leaves are now just as big as mouse ears. It's time to open up again.
We all have been closed in our own Covid way with countless losses in lack of touch; being unable to teach and practice or even hold our grandchildren. Many of us have been isolated in our homes with only the occasional sojourn for essentials. Colleges, high schools and grade schools have been closed. Restaurants, bars, sporting events and touch practices have been closed. Even communal spiritual practice has been limited or suspended. Almost everyone knows someone who has died. We each have searched ourselves with the existential question to vaccinate or not. 
Now society is ready to open up again and come out after the rain. The physical, emotional and spiritual toll of losses has caused angst, stress, tension, chronic pain and emotional holding for everyone in some form. So how, when and why do we open up again?
Why?
As we know, when we hold someone, our goal is to blend and trust (a quality of life that has been lost or at least forgotten from the isolation of the long rain.) When we engage the tissues, we connect with the Inner Wisdom and invite the body to self-regulate and change. So when should we do that again? We are therapists, but we are first human beings trying to be human. We have our own effects of the rain to deal with so that we are whole, healthy, centered and therefore able to hold space for others. I know many colleagues from both allopathic and holistic health who have decided they will not re-open. For me, I see myself in the twilight of my career. I have an urging to teach and be of service to my community and to those who come after me to help the collective find a way through these times of rain. Safe, unconditional, comforting, healing touch in my view is why we need to re-invent the ultimate human experience of understanding what is on the other side of the mask.
How and When?
How and when do we re-open? Here at the CST Alliance we feel ready to be of service again. Now is our when. The how is that we are posting more beginning classes, smaller and still virus protected with masks for now. We will support therapists returning. We will support our communities and families to help themselves with CST-related exercises: Breath Venting; self-Rock and Glide; cranial pumping; Chi Kung of the dural tube; and self-help basic lymphatic opening. These forms empower students and their patients to be independent should the hard rain of another resurgence of virus occur.
We have also noticed an enormous need to serve post-virus survivors, those with vaccine adverse effects complaints, families of Covid victims and survivors. Basic CST is extremely beneficial to folks suffering neurologic symptoms, general malaise, fatigue and pain. Our advanced classes in Somato-Emotional Processing (SEP) and our CADD class help deal with death, dying and emotional suffering and loss (Covid PTSD).
Significantly, we have found CST enhances CSF production and lymphatic re-absorption, both essential to bolster our main line of Covid defense: our immune system and our central nervous system.
When rain comes in the form of storms with destructive floods and frightening winds, there is danger and loss. After the storm the sun will shine again and those that survive will move on. It is from adversity we learn to mourn, adapt, heal and grow in the celebration and continuance of life. This is our opportunity to rebuild, renew and care for each other and move forward together again. Stand by and discover YOUR path forward. Remember that rain is water and water is life and the environment in which we live. The sun will light us up again. Look for your form of sunlight after the rain.
Happy Day,
Don