As you can find on our website CSTAlliance.com under "Don's Circle" we have offered entries on our current times dealing with the pandemic: job losses, financial losses and the greatest of losses -- human loss of life, illness, stress, and the fear of contracting the all-encompassing corona virus. The accompanying uncertainty around our society in social justice, racism, gun violence, division in our politics has made all of us question our future and our very continuance. These times have demonstrated the need for compassionate, kind, safe opportunities to receive holistic care. Understanding our own feelings, needs, and origins of our stressors, pains and angst can be of great help in finding well being, peace, hope and understanding that things will change. Gentle caring touch can help us release our tensions, understand our feelings and find ways to find self-control, methods of relaxation and enhancing our own self-regulating and healing qualities, focusing our immune response, learning and teaching ways we can care for one another. This is the last in our series of essays offering ways forward in re-creating our treating and teaching methods to care for ourselves safely and independently so we have ways to move forward while being restricted in our social interactions and social distancing. These essays are our attempts to offer free service and help make a difference in these times. Take what truth you find and leave the rest. The following are original sketches on home exercises that can be given to your clients that complement the manual work you do with them. Here are the exercises and a brief description about the simple activity.
---
Spaceous Circle: An easy way to exercise every muscle in the body to complement healing results of CST. It brings awareness and balance. Folks should move only as far as their body will let them without any discomfort or pain.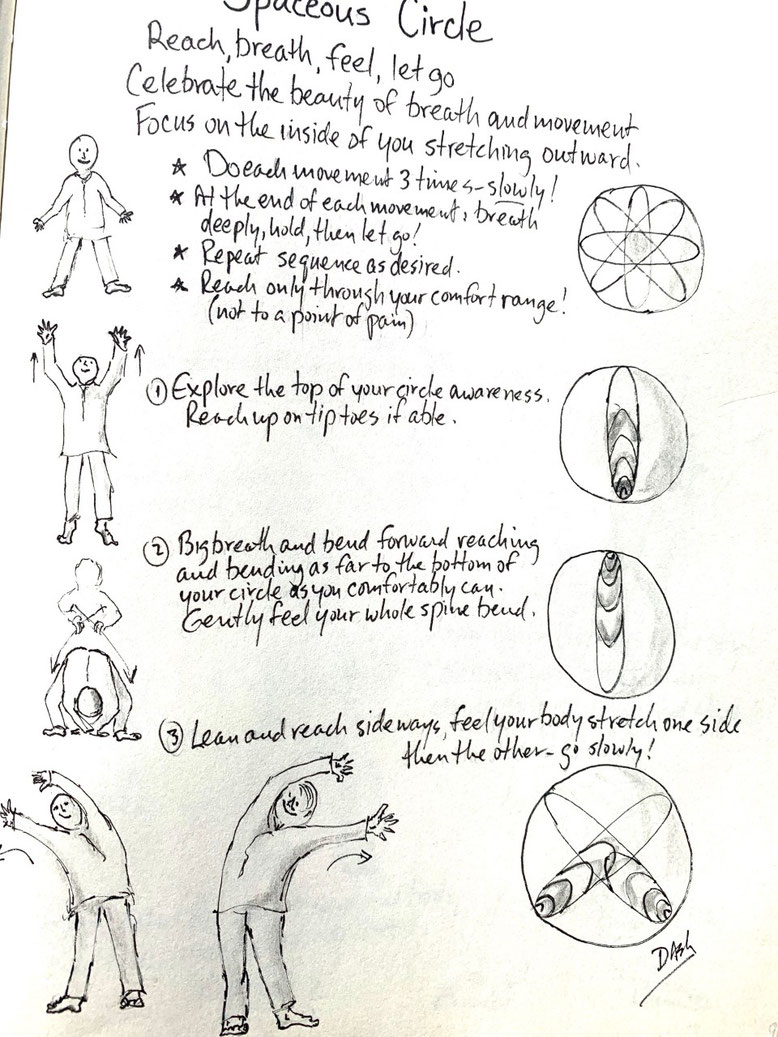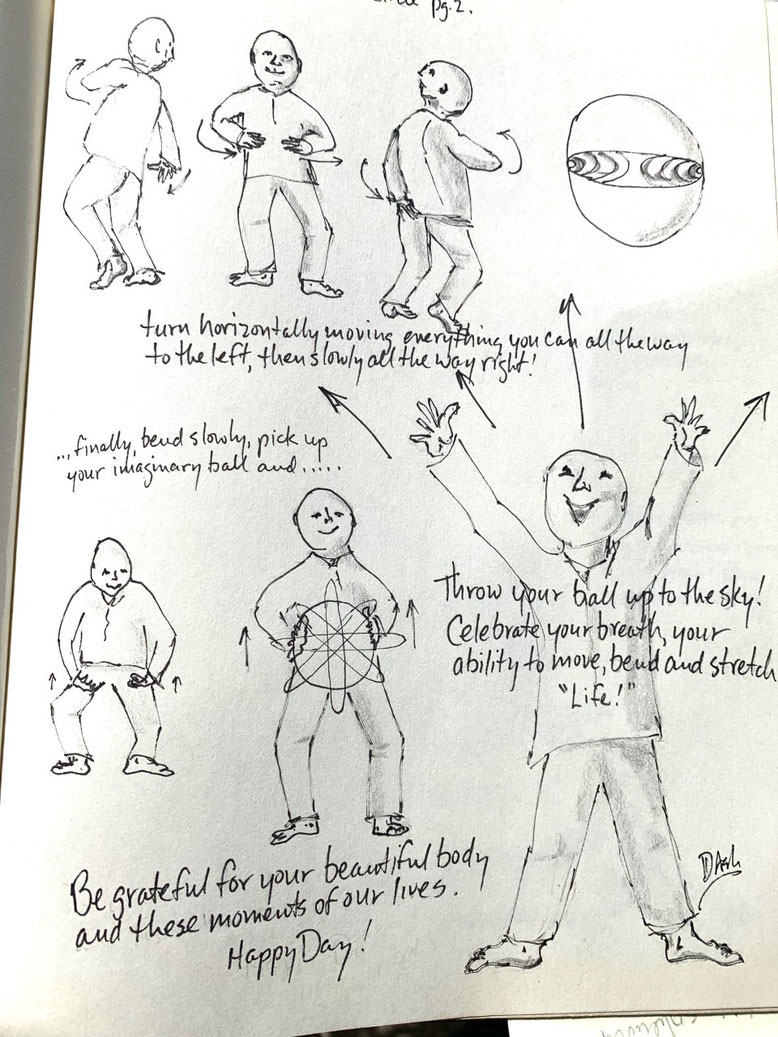 ---
Low Back Care: Clients can do these three basic exercises to align the intervertebral discs. Any report of sharp pain or leg referring symptoms of numbness, tingling or pain, stop the exercise.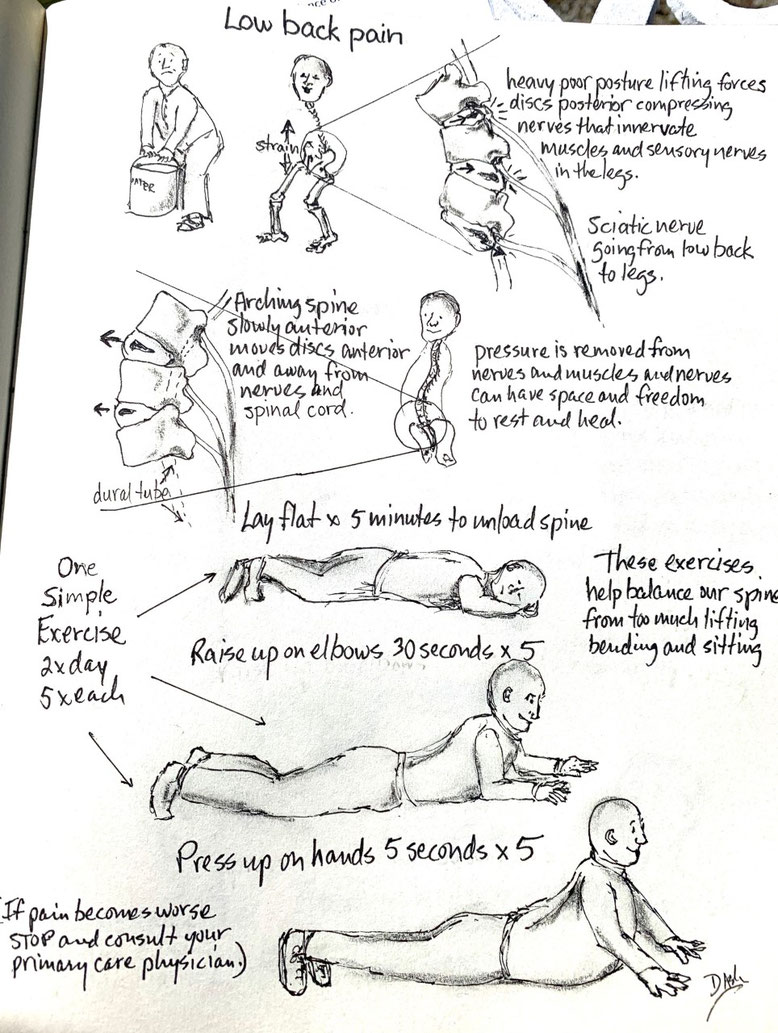 ---
Neck Pain, Headaches: This easy exercise may help and should only be used through your pain-free available range of motion. A great way to balance out forward head postural strain caused by too much sitting at the computer at home. Moving the head backward gently and frequently during the day can produce a change of posture enough to help avoid strain.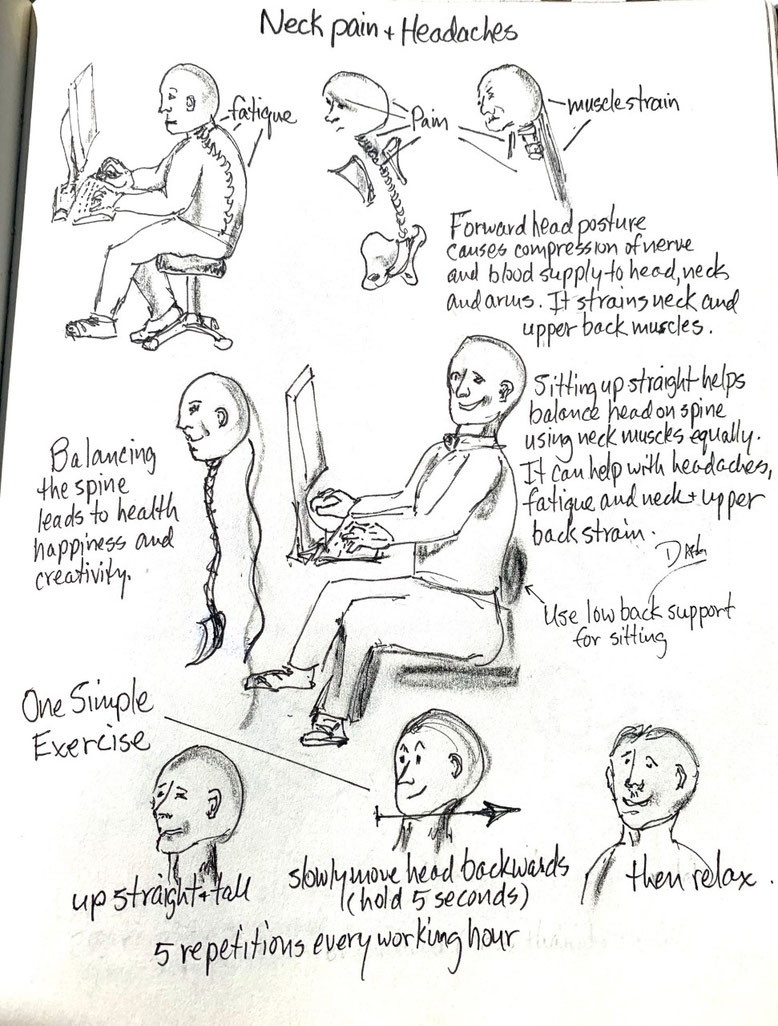 ---
Prayer Series: A simple, great way to exercise wrists, elbows, shoulders and upper body when movements are gentle and within your available range of motion. A great break from sitting too much.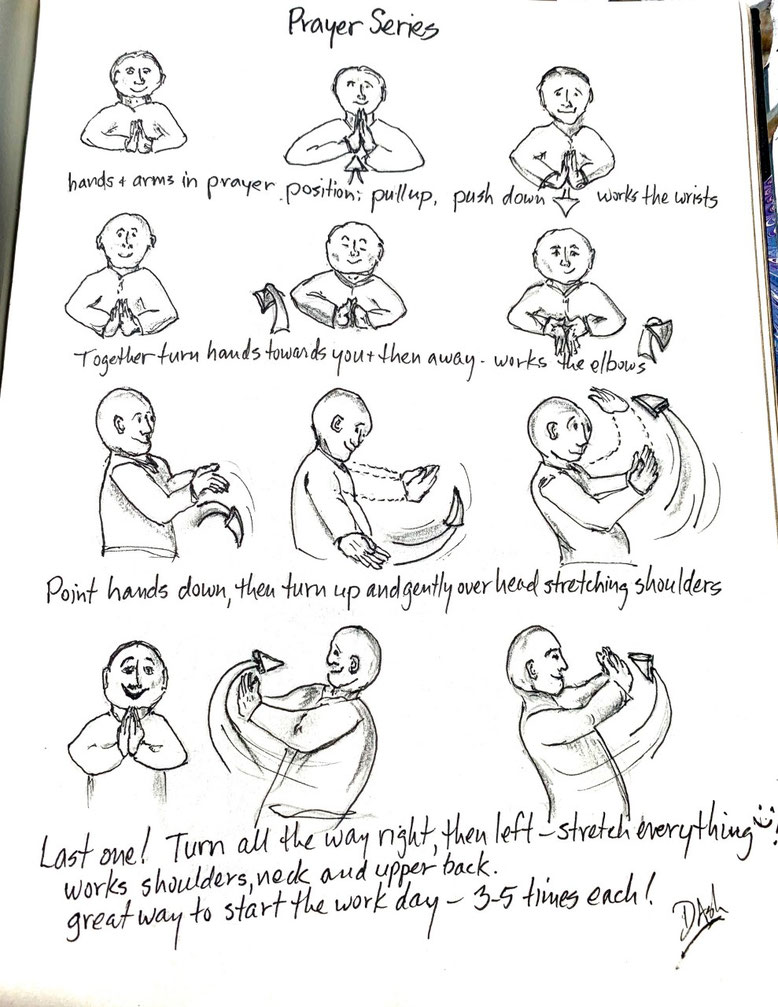 ---
Chi Kung and the Dural Tube: A meditation and visualization type of exercise to stimulate awareness and mobilize the feelings of energy flowing up and down the spine and encouraged by breath.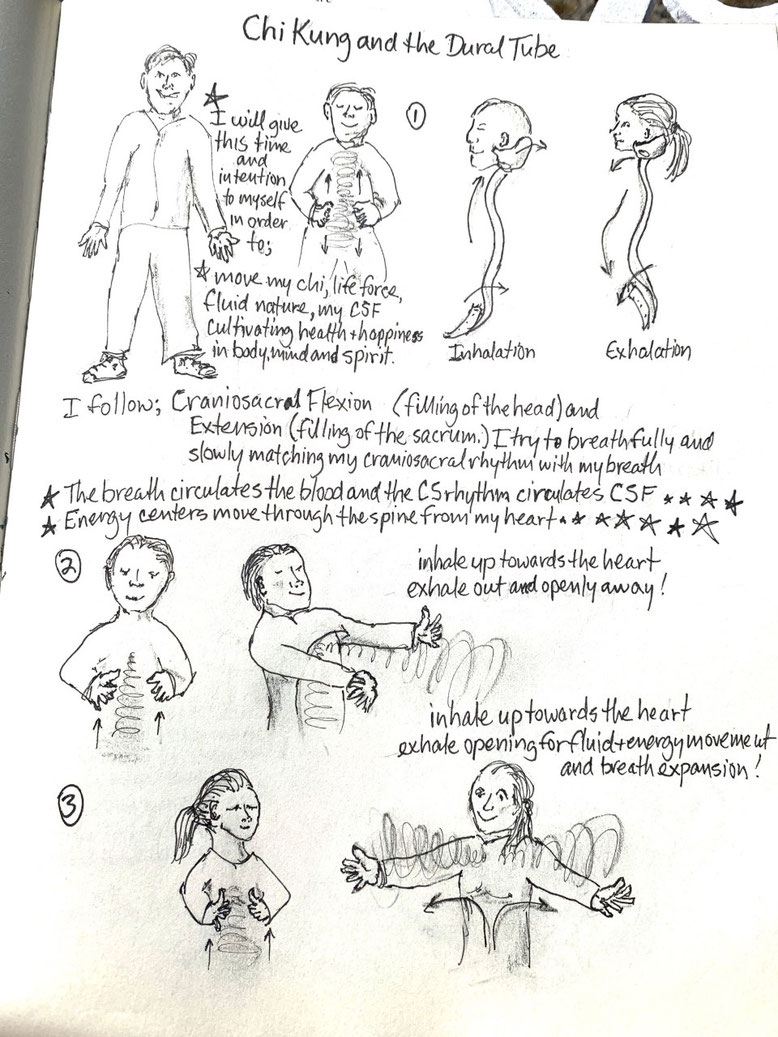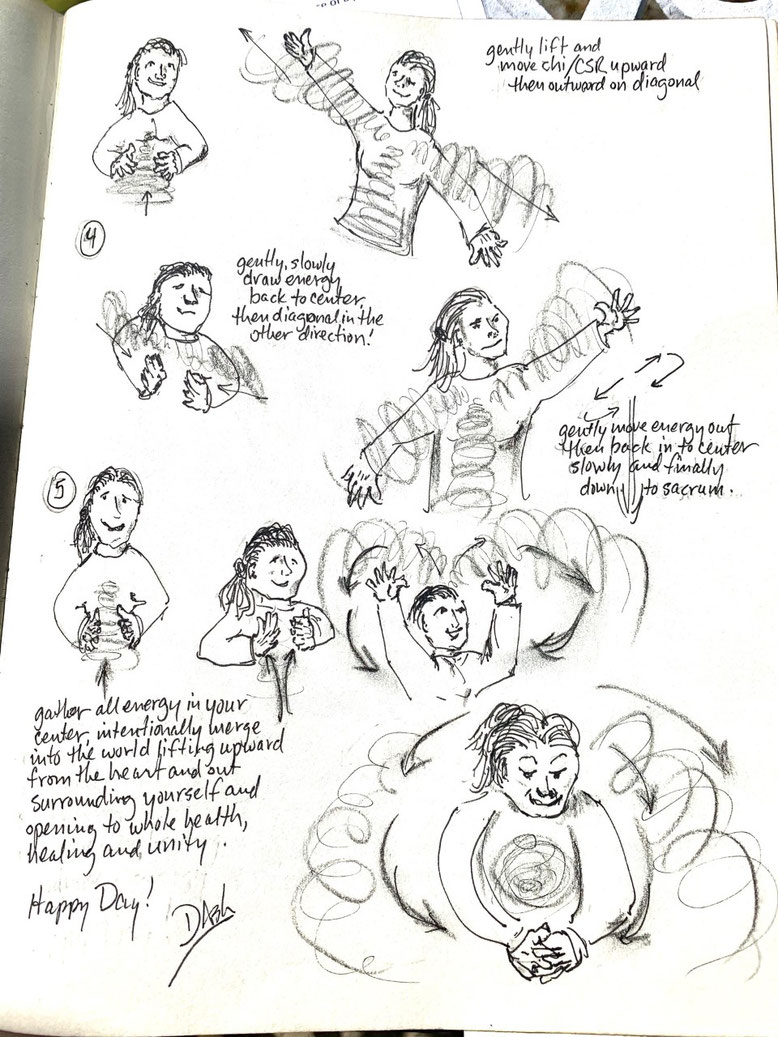 ---
Rock and Glide: Gently moving the spine within the natural flow of cerebrospinal fluid and the rhythms of the Craniosacral mechanism. This is a beautiful way to stimulate fluid flow. It is relaxing and can be great to encourage sleep and rest before going to bed or taking a nap.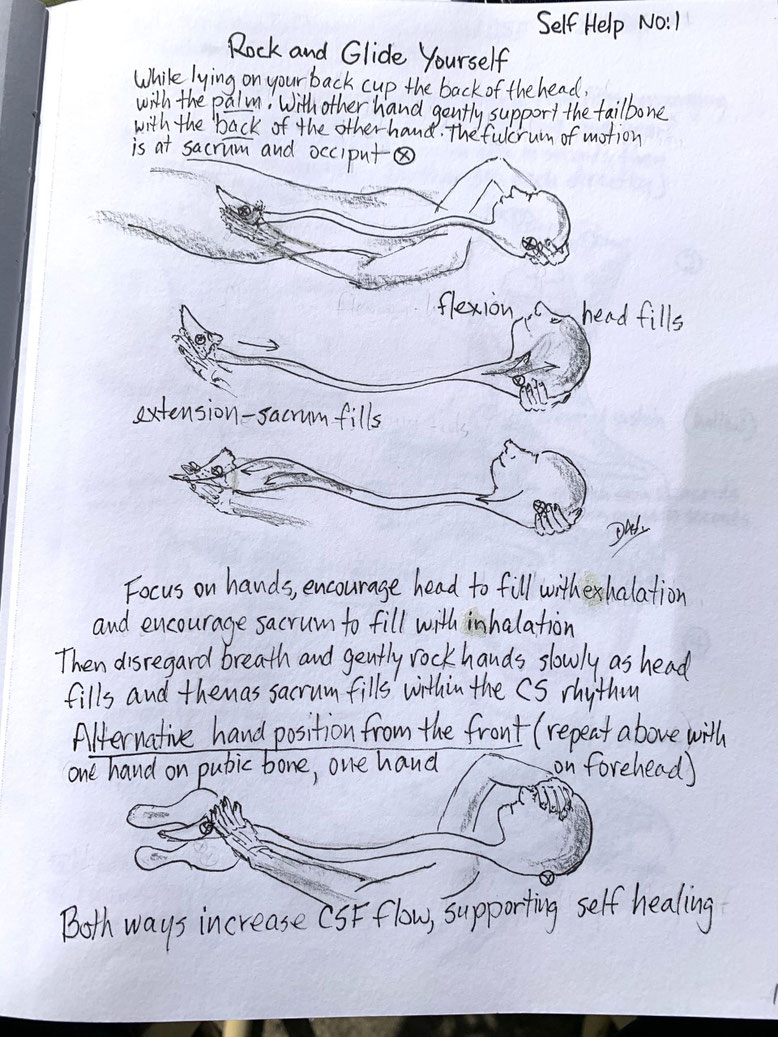 ---
Lymph and CSF: While doing a CST session and having gone to the Thoracic Inlet, which we always do before head positions, it is very helpful to do basic superficial lymphatics from that thoracic inlet location. It is a four directional skin stretch as the superficial lymphatics (lymphnodes and capillaries, are in and directly under the skin) They collect over 50% of CSF coming from the neck and head at this location. Essential before we go to the head and try in increase CSF production. We add this to our thoracic inlet technique in session and give this basic version to the patient as a great home program they can add to help with  vital circulation of blood, lymph and CSF as a self help at home between sessions.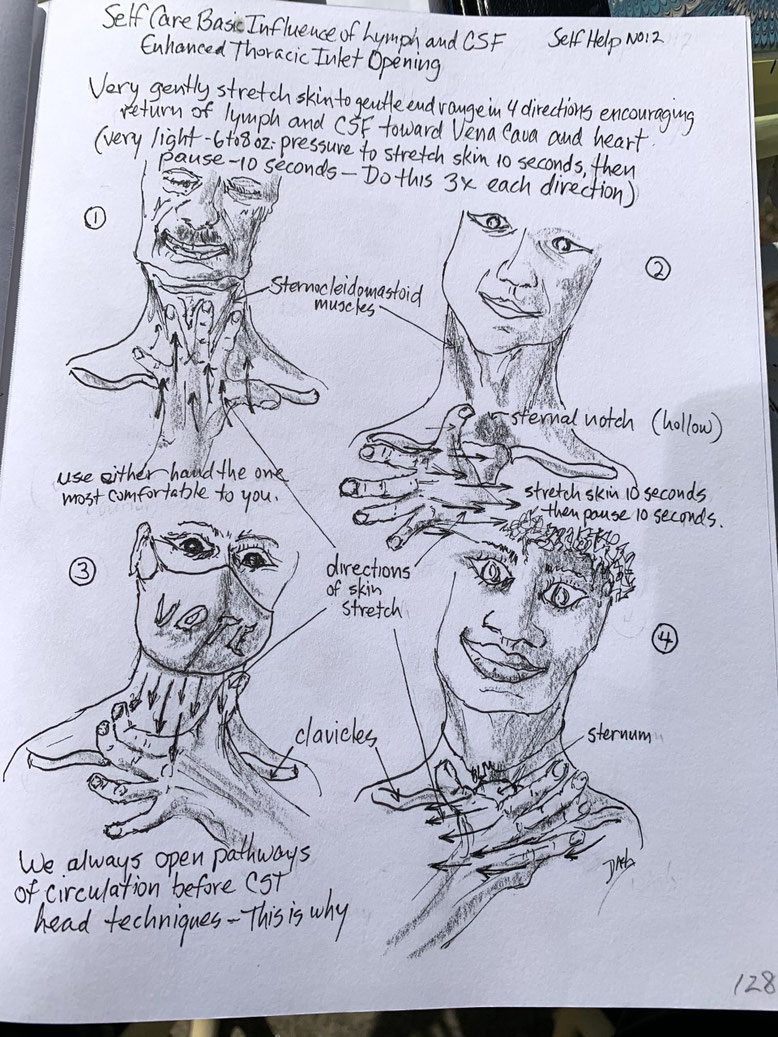 ---
We wish you all good health and encourage you all to have faith and hope. We will work together to move ourselves forward into the new future.
Happy Day,
Don Ash